This shop has been compensated by Collective Bias, Inc. and its advertiser. All opinions are mine alone. #SKSHarvest #SeasonalSolutions #CollectiveBias
Cooler weather is coming and cozy, warm decor is making its way into homes. I'm not one to overhaul my entire home decor for each new season. I look for simple ways to bring seasons into my decor. Since I spend a good amount of my time in the kitchen each day, I usually start there. This year I decided I was decorating glass jars for fall to dress up my counters and pantry. It's a fun project that is actually relaxing to create and it's the perfect project for the craft-challenged.
I don't know about you, but I'm a busy, busy mom. Love to craft, but I need my project to be quick and stress-free. This simple technique for decorating glass jars is even better than stress-free, it's stress reducing. Really.
Confession time. I don't like to shop. I really don't like to go shopping. You can imagine how painful all those years of shopping with two teen daughters was for me! I'm so excited to find SKS Bottle & Packaging. They have over 6,000 containers and closures all available from the comfort of your own home. Most of the SKS glass jars are Made in the USA (that makes me more happy) and are 100% recyclable (which makes me even more happy). I really like that each container offers a variety of colors and styles of lids and closures.
In minutes I placed my order and just days later my jars arrived. It couldn't be any easier.
You know how happy this made me! I choose to purposefully support Made in the USA products whenever I can.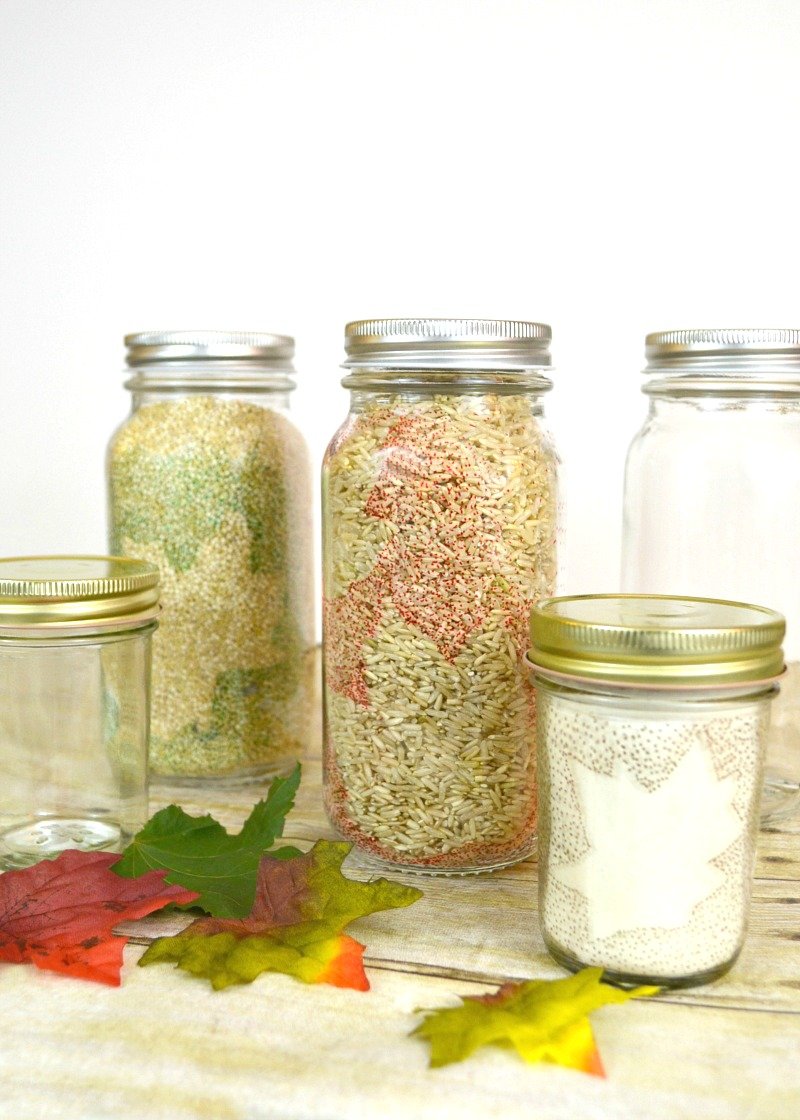 Decorating Glass Jars for Fall
Supplies
Jars – I chose two sizes of SKS glass jars. The SKS Clear Glass Mayberry Jars are great for storing and canning tomato sauce. I like them because they're large and perfect for holding staples like rice, flour, quinoa, cereal and granola mix. The SKS Clear Glass Jelly Jars with Gold Metal Plastisol Lined Caps are ideal for jams, jellies, sauces and more. I like them for storing smaller amounts of staples like baking soda and baking powder and for nuts, raisins and candy.
Permanent Markers – Choose warm autumn colors. Metallic bronze takes warm fall color to a sophisticated level.
Leaves – Take a walk outdoors and collect autumn leaves or use fabric leaves from the craft store.
Double Stick Tape
Wash and dry the jars and lids well. Make sure the outside of the jars are thoroughly dry before starting.
Adhere leaves to the jar with double stick tape. You can add one large leaf or several smaller ones.
With a permanent marker, make dots to outline the leaves. Start at the edge of the leaf and work out from there. Be careful not to smudge dots before they dry well. Place dots close together at the edge of the leaf to create a crisp outline. You can choose how concentrated you like the remainder of the dots.
There's something soothing and relaxing about adding those little dots. You can't go wrong. I can feel myself relax as I work my way around the leaf and then out onto the rest of the jar.
Decorating a glass jar takes about ten minutes to do one side. If you find the process as soothing as I do, keep going and enjoy decorating the entire jar.
Decorated glass jars look so cozy in your fall decor.
Filled with pantry staples, they dress up your kitchen counter and cheer up a pantry shelf.
The decorated glass jars can be handwashed carefully.
Those simple little dots make such a charming autumn design. Nothing says fall is here like autumn leaves.
You'll find decorating glass jars for fall is so much fun that you'll want to make them for all seasons and holidays, too. Pop over to SKS Bottle & Packaging to be inspired by all the different choices they have.
Hover over the image below to be able to shop for the jars I chose.
I'm a mom of 3, a veteran and military spouse. I've moved into 20+ homes all around the world. My passion is helping busy people make the space and time for what's really important to them.