This is a sponsored post written by me on behalf of Daytona Beach Area Convention & Visitors Bureau for IZEA. All opinions are 100% mine.
I had to wear a sweater and heavy coat last week and I didn't like it. I'm not ready for cold weather, but I am ready for a warm, fun family vacation. A place with lots of sun and gorgeous beaches.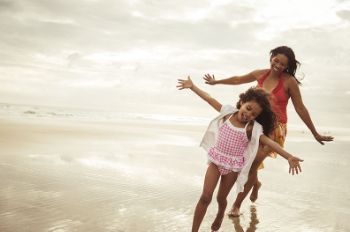 I'd love to take the whole family to a place with activities for families with children.
Lucky for me, Daytona Beach, on the east coast of Florida, is within driving distance and offers a wide variety of activities, dining options and gorgeous beaches. Daytona beaches have beautiful white sand dense enough that you can drive your car right to the water's edge. There are all kinds of lodging options so that you can stay right on the beach in a hotel, motel, condo rental, bed and breakfast inn, vacation rental or camping grounds.
I would never leave the beach if it was up to me, but I know my family would want to have a couple of adventures so we could go deep-sea fishing with some of the best bass fishing in Florida or visit one of Daytona's historical sites. I always enjoy learning a bit of the history of an area that I visit.
Because we're a money-saving family, I'm very interested in the free things to see and do in Daytona.
Free Things to Do in Daytona Beach
I just learned that Daytona is the festival capital of Floriday and has lots of fall festivals to choose from. My teens would enjoy the Daytona Beach Blues Festival and live music each day at Bruce Rossmeyer's. My youngest daughter is the art lover in the family and I know she'd enjoy the Halifax Art Festival and the Daytona Beach film festival. I'm positive that my son and husband would be facinated by the Wings and Waves air show with 40 different aircraft performing over the Atlantic.
Festival Capital of Florida
Daytona has something for each member of my family to enjoy and best of all, it's warmer than where I am right now. Have you ever been to Daytona? What should my family when we're there?