Professional Organizing Services
Do you have an organizing challenge that could use the expertise of a professional organizer?
I would love to work one-on-one with you to address your organizing challenge. Thanks to the magic of technology, we can work together virtually via email, phone or video chat. There are a variety of reasons why you may prefer the option of virtual professional organizing.
If you'd like to work in person together, contact me at susan@organized31.com to discuss the available options.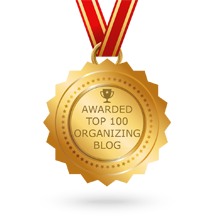 Virtual Professional Organizing Services

Why Virtual Professional Organizing may be the right option for you:
You'd like to work with me and don't live in my area.
Your schedule doesn't allow meeting in person with a professional organizer.
Your situation isn't conducive to having an in-person professional organizer in your home.
You feel more comfortable working with someone virtually rather than in-person.
You're embarrassed to have someone come into your home right now (although any professional organizer will tell you not to be embarrassed!).
Learn more about virtual organizing.
Unpacking and Setting Up a New Home
With 25 moves under my belt (thanks to the military), I can help you unpack and set up your new home to work best for you and address any quirky areas in your new space.
Downsizing and Senior Moves
I've downsized and upsized many times in my personal life. I've assisted seniors with the challenge of downsizing and moving. We can make your new home work well for you and feel like home.
Seasonal Clothing Swap
Let me help you with your seasonal clothing swap. We'll determine the items that you truly want to keep. Those items will be carefully packed away for next season. The current season's items will be neatly folded, hung and displayed for your effortless use.
Holiday Decor Packing
Having moved my own holiday decor around the world several times, I have learned the best way to organize and pack away holiday decor. Your decorations will be easy to locate next year and fresh and ready to be displayed year after year.
Paper and File Organization
This area is a challenge for most and not as glamorous as some other organizing areas, but it is the most critical organizing task. Organizing your paperwork allows you to sleep well at night, pay bills on time and find any important document in just minutes.