Welcome! You've found your way here because you're tired of the stress, the clutter, and the chaos.
You're busy. Life is busy. You're frustrated and know there's gotta be a better, simpler and more fulfilling way to live. You want to find that way.
So, here you are and I'm so glad that you've joined us!
Organized 31 inspires busy people to live a simpler and more creative life that makes a positive impact.
Hi, I'm Susan – a professional organizer, blogger and mother of three children, a dog and leopard gecko. My husband is on active duty and that means we move a lot. A. Lot. I've moved into over 25 homes and, at one point, we moved five times in six years (and I'm not talking across town!), so planning and organizing are in my blood.
I grew up as a military child and spent nine years in Hawai'i, which is where I call home. I earned a BS in Economics from the Wharton School of Business at the University of Pennsylvania and a Master of Human Relations at the University of Oklahoma. I served fifteen years in the Air Force, both on active duty and in the Reserves, so military and veterans' issues are dear to me. I've taught parent education to families, life skills to teens and child development at the college level for more than 20 years. I'm a proud member of the National Association of Productivity and Organizing. You can read more about my experience in the military and as military spouse.
I've often wondered if my love of planning and organizing came from those 25 moves or if it's just an innate part of my personality that enabled me to survive and even thrive through all these moves. Whichever it is, I love organizing. I believe life is better when organized.
Professional Organizer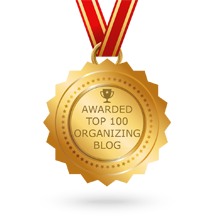 As a professional organizer, I've worked with families in their own spaces, meeting their personal, specific needs. I've enjoyed assisting clients both in-person and virtually by email or video chat. I've worked with clients with unique needs, such a mobility impairment, traumatic brain injury and extreme dust allergies. My goal is always to meet a client where they're at and help them move to their organizing goal.
I have always been an organized person, but a few years ago hit a series of life events, including two health issues, sending two babies off to college and 4 deaths, threw me for a loop for about 2 1/2 years. My organized approach was overwhelmed for that period. Know that I deeply understand how life can get in the way of organizing and your best plans. There is absolutely no judgement here. I hope you find only understanding and help.
Blogger
I've been sharing organizing, crafting, repurposing and parenting tips on Organized 31 and social media since 2012. I began blogging for three reasons:
To help other people work towards their own simpler, more creative life that makes a positive impact.
To create a business that can move with me anywhere in the world that the military may send us.
Because I don't like technology. Ironic, isn't it – a blogger that doesn't like technology? I realized that I'm much too young to give up on technology, so here I am six years later having gained a wealth of newfangled knowledge.
Of course, I'm a fan of beautifully perfect organizing solutions and nothing makes me happier than strolling down the organizing aisle of any store.
Affiliate links are provided for your convenience. Click here to read my full disclosure policy.
But as a busy mom on a limited budget, I'm a big believer in simple projects using repurposed items. That often means my organizing ideas are fr-eeeeeeee! These repurposed and low-cost organizing projects are perfect for:
Military families
Families that move frequently
Families on a budget
College students
First apartments and homes
Testing out your new organization plan before investing in long-term bins, baskets and containers
Anyone interested in organizing with more earth-friendly options
When I do purchase items, I'm a supporter of purchasing items that are made right here in the U.S. of A. There are many reasons that I try to always buy American-made products. I am excited each time I tell you about American-made products that I've discovered and use. You can check out my Amazon Made in the USA Organizing Products Collection.
I promise that I'll always share real ideas that real people can do and be proud of.
<