5 Tips for the Best Shower Caddy in College
This post may contain affiliate links provided for your convenience. We earn commissions if you shop through the links on this page. I am also an Amazon Associate and earn from qualifying purchases Read my full disclosure policy.
This shop has been compensated by Collective Bias, Inc. and LISTERINE. All opinions are mine alone. #BackToBold #CollectiveBias
Being confident in college starts with feeling comfortable living in your dorm. Living in a dorm with a shared bathroom takes some getting used to. I've sent two of my "babies" off to college. One of them had a down-the-hall bathroom and one had a bathroom she shared with three roommates. With their experiences and my mom advice, we've come up with these tips for the best college shower caddy to make dorm living manageable and the college experience more enjoyable.
Having a shower caddy that works best for you encompasses the caddy, the contents and more. The key is tips for the best shower caddy for you in a college dorm. You want a caddy that stays clean and sanitary so that you can stay clean and fresh. These are simple tips that make a big impact.
5 Tips for the Best Shower Caddy
Have a Toothbrush Cover
Use a toothbrush cover at all times when your toothbrush is in your caddy. My daughter who had a down-the-hall bathroom in her dorm, had a shelf where everyone stored their shower caddies. My daughter's friend inexplicably found blood (not hers) on her toothbrush one day. Shiver. My other daughter had a bathroom that she shared with three roommates. The bathroom was so tiny that the only place to store their shower caddies was on a shelf tower over the toilet. Studies have shown that droplets from the toilet travel at least six feet from the toilet when you flush it. Ugh. Always use a toothbrush cover.
Use Products You Trust
You won't have room to have excess products that you don't like or don't use in your limited dorm room space. Leave excess products at home. Be sure to carefully select products that you like and trust. Products that provide more than one benefit are a great use of limited storage space. LISTERINE® mouthwash is a brand that has been trusted for years and provides multiple benefits in one bottle.
LISTERINE® TOTAL CARE provides six benefits in one product:
Provides up to 7 times more fluoride than another major mouthwash brand (**found in a lab study).
Helps prevent cavities.
Restores minerals to tooth enamel.
Kills germs that cause bad breath.
Cleans your entire mouth.
Freshens breath.
LISTERINE® TOTAL CARE ZERO ALCOHOL deep cleans with a milder taste:
Provides a greater reach in cleaning your mouth than brushing and flossing alone, especially between teeth and along the gum line.
Helps prevent cavities and restores enamel.
Kills germs that cause bad breath.
Refreshes your breath without alcohol.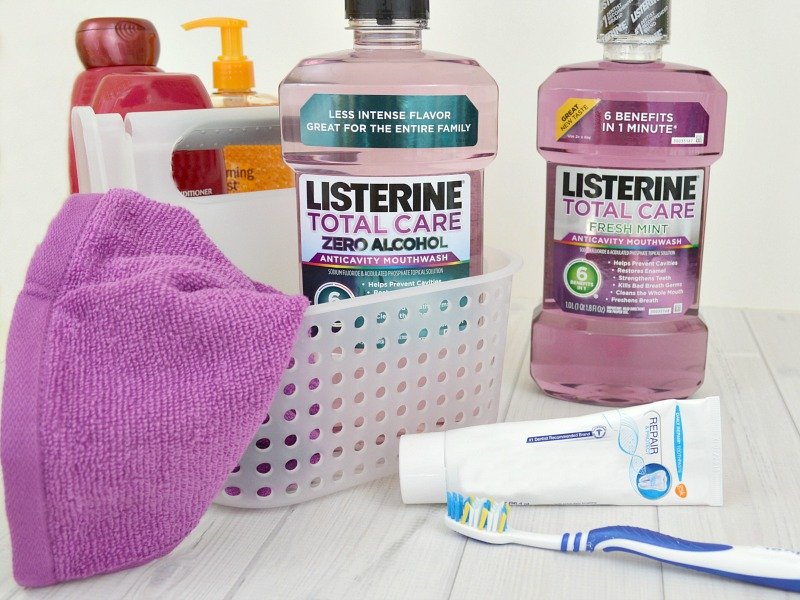 You can hover over the image above to shop LISTERINE® products at Target right now.
This is the perfect time to stock up for your family and your college student. Target has a Buy 3 and get a $5 Target gift card offer available from June 29 through September 9, 2017. The offer is valid in-store and online. I found LISTERINE® TOTAL CARE and LISTERINE® TOTAL CARE ZERO ALCOHOL in the mouthwash and dental care aisle of the personal care section of the store.
Chose a Durable Caddy and Consider Having Two Caddies
For the best shower caddy for college, my daughters prefer a durable hard plastic caddy. We've found that the soft collapsible caddies only last about a year. If you have the space to store two caddies, have one caddy for shower items and one for dental and face care items. It makes it easier to carry just the items you need when you head to the bathroom.
Use a Carabiner or Zip Tie to Hang Your Shower Caddy
Attach a hanger or hook to your shower caddy handle so that you can hang it from the shower rod when you take a shower. This makes it easier to access your shower items in a small shared shower space. You want a hanger that can easily be attached to the shower rod and then removed after your shower.
You can use these household items as a hook:
Zip Tie
Carabiner
S Hook from the Hardware Store
Binder Ring
Have a Wash Cloth for Each Day
Your wash cloth has the same chances of getting dirty as your toothbrush. Use a new wash cloth each day to make sure it remains clean and sanitary. A stack of five to ten wash cloths won't take up much room and are easy to wash.
Are you ready to head off to college or sending some off to college? Be sure check out LISTERINE® at Target while you're setting up the best shower caddy for your college dorm room.
More Top College Tips for Success :
I'm a mom of 3, a veteran and military spouse. I've moved into 20+ homes all around the world. My passion is helping busy people make the space and time for what's really important to them.