This shop has been compensated by Collective Bias, Inc. and its advertiser. All opinions are mine alone. #SkinEssentials #CollectiveBias
The first year of college can be daunting for both students and parents. I've sent two of my "babies" off to college and while it was traumatic (for me), we've all three survived and even thrived. Both of my daughters love their colleges and are doing really well. I'm so proud of them. I'd like to think that my mom tips have played a small roll in how well they've settled in at school. Over the past four years we've picked up tips that have made living in a college dorm easier. Organizing college life allows you time and mental space to focus on the important things. My daughters and I share our seven favorite simple and no-cost tips for college students so your freshman year can be a big exciting success.
Tips for College Students
I'm all about simple tips that make a big impact. You know, the kind that just make your day go a bit more smoothly and make day-to-day life a bit easier. There's more than enough stress and hassles the first year of college (Forgot to do your laundry and all the washers are full? Forgot to buy more deodorant and you're out? Can't find your umbrella and it's pouring?), that simple steps to make daily life in a dorm run more smoothly really do make a big difference. Both of my daughters have had roommates that were beyond unorganized and my daughters have commented several times on how much more stressed out their roommates were. When college life is running smoothly, you can focus on learning and experiencing life, which are the goals in college. Knowing helpful tips for college students is the key.
Simple Tips for College Freshmen
Most freshman dorms are unlike your bedroom at home. You will probably have significantly less closet space and dresser space. Look at this closet that greeted my daughter in her freshman year. It was very small. Ver-rryyy. Small.
Since you'll have limited space in your freshman dorm room, it's important that you organize your clothes to maximize space and make managing your clothes in a small shared space easier for you.
File, Don't Stack
Filing t-shirts, sweatshirts, sweaters, pajamas and almost any clothing item is your best option in a small space. When you file clothing, you can easily see each item and slip it out of the stack without everything falling over. Filing keeps your items neatly organized and easily accessible. Both are key to living without additional frustration in a small dorm room.
Always Wash Up at Night No Matter How Tired You Are
I asked my daughter what tip she'd give a college freshman. Her tip is – no matter how tired you are, always wash up at night.
Remove contacts.
Remove makeup.
Floss and brush your teeth.
Wash your face.
You shouldn't skip your night wash-up routine because these tasks are important for your health. But additionally, if you don't take a few minutes each night to wash up, you'll find that you end up making more work for yourself. If you leave your makeup on all night, you'll wake up to a pillow case and possibly sheets and blankets covered in makeup and grime that need to be washed. You're busy enough in college, you don't need to make extra work for yourself.
You should also choose products you can rely on and help you look your best.
Neutrogena® Oil-Free Acne Wash Pink Grapefruit Foaming Scrub is perfect for washing your face with the refreshing blast of grapefruit and clearing away blemishes and blackheads with maximum strength Salicylic Acid acne-fighting medicine. It features naturally derived grapefruit extract plus vitamin C combined with gentle exfoliators to smooth away roughness without over-drying or irritating acne-prone skin.
The perfect companion, Neutrogena® Body Clear® Body Wash – Pink Grapefruit, treats and helps prevent body acne without over-drying.
Clean & Clear® MORNING BURST® Facial Cleanser helps wake you up in the morning with a fresh citrus scent. It also has soft BURSTING BEADS® that leave your skin feeling clean, energized and ready to face a busy college day.
Once your thoroughly and gently cleaned, Neutrogena® SkinClearing Mineral Powder is a fast and gentle oil-free foundation for acne-prone skin. It's the first and only mineral powder with MicroClear® Technology that cuts through oil and unclogs pores.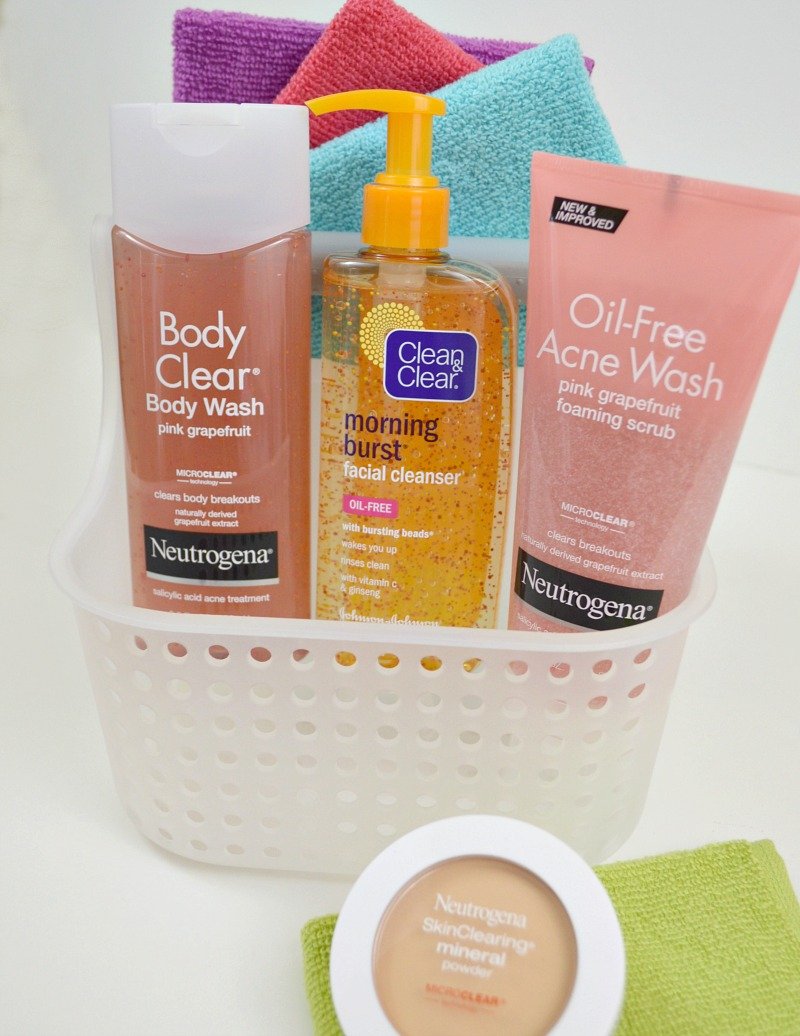 Folding Sweatshirts and Sweaters
Step 1 – Lay your sweatshirt or sweater out flat. Smooth out any wrinkles
Step 2 – Fold the sweatshirt or sweater in half with the sleeves together.
Step 3 – Fold the sleeves into the body of the sweatshirt or sweater
Step 4 – Fold the sweatshirt or sweater in half. Smooth out any wrinkles.
Folding sweatshirts and sweaters in this manner keeps the sleeves neatly in place in within the body of the sweater. This also makes it easy to stack sweatshirts and sweaters neatly on a shelf. If you have room, filing folded sweaters and sweatshirts in a drawer or under-the-bed storage bin works well, too.
Fold Jeans
You'll have limited space for hanging clothes in your freshman dorm room. It'll be easier for you if you fold your jeans rather than hang them in your tiny closet. This allows you to use the valuable hanging space for items that must be hung like blouses, dress shirts, dresses, dress slacks and coats.
Step 1 – Lay jeans flat. This will prevent creasing down the front and back the legs of the jeans.
Step 2 – Fold the jeans in half, with one leg on top of the other. Smooth out any wrinkles.
Step 3 – Fold the jeans in half by bringing the hem of the jeans up to the waistband.
Step 4 – Fold the jeans in half again. Be sure to smooth out any wrinkles.
Folding jeans in this fashion allows you to stack them neatly on a shelf in your closet. Or even better, file them in a bin or basket and place that on a shelf.
Folding Bed Sheets
Folding bed sheets neatly will take up less space in your limited storage and prevents you from losing one of the items from the set in the chaos of a tiny dorm room.
Step 1 – Slip one corner over your hand, with your hand on the right side of the sheet.
Step 2 – Slip the adjacent corner over the first corner with the right side of the sheet facing out (wrong sides together). Use the seams to line the corners up neatly.
Step 3 – Slip the other two corners together in the same manner and then slip them on top of the first two corners. You will have all four corners now tucked together
Step 4– Leave your hand in the corners and using your other hand fold the sides over and lay the sheet down. Straighten the folded edges out so that the sheet makes a neat rectangle.
Step 5 – Fold the rectangle in thirds and then in half.
Step 6 – Place the folded top sheet and folded bottom sheet into the pillow case to keep the sheet set neatly organized together.
Wear Sunscreen Every Day
You'll be outside walking to and from classes, to and from activities, to and from dinning halls, to and from the library and to and from your friends' dorms. You'll be outside walking everywhere, a lot more than you probably did in the past. Be sure to put sunscreen on every day. You'll need it. And if you need a mom tip to encourage you to wear your sunscreen, I developed basal cell carcinoma on my lower eyelid from too much sun and not enough sunscreen. Wear your sunscreen every day!
Storing Shoes
If you own more than two pairs of shoes (and I'm guessing that you do), you will not have enough room for them in your freshman dorm room. Some people line shoes up under the edge of their bed, but you'll find that you end up knocking and kicking the shoes around unintentionally. You'll find yourself on your hands and knees trying to find a missing shoe (as you're late for a class, of course).
Organizing your shoes in a wine box is a no-cost way to store shoes neatly in a tiny dorm room. You can stack the wine boxes of shoes in closet or store them under your bed. Both of my daughters have used this method and it works really well for them.
Bonus Tip
You'll have so many amazing opportunities available to you. Take advantage of every opportunity for learning and experience that you can.
These simple tips for college students won't take you much time or money and they'll help your day-to-day college life run more smoothly. When you take a few minutes each day to get organized, dorm life and college life is much easier and less stressful. Less stress means you can focus on getting the most out of this amazing experience in learning and life. Be sure to check out Neutrogena® and Clean & Clear® at the Target website for your college skin care needs.
This post is sponsored by CLEAN & CLEAR® and NEUTROGENA®. I only recommend products I use personally and believe my followers will also enjoy! Some of the products mentioned were provided by CLEAN & CLEAR® and NEUTROGENA® for this review.