This shop has been compensated by Collective Bias, Inc. and its advertiser. All opinions are mine alone. #BigLotsReady #CollectiveBias
I can't believe that my second "baby" is leaving next month for her first year of college. I feel like I just blinked and she went from playing dress up to going off to college. While my heart isn't ready yet for her to leave home, after sending my first baby off to college two years ago, I am prepared for what my second baby will need at college. There are so many different types of items that your college student will need, but I'm focused on the mom's list of must-have items. After my first college shopping experience, I created the basic college supply list that I'm using to prepare to send my second baby off to college and you can use this free printable to get your baby ready for college, too.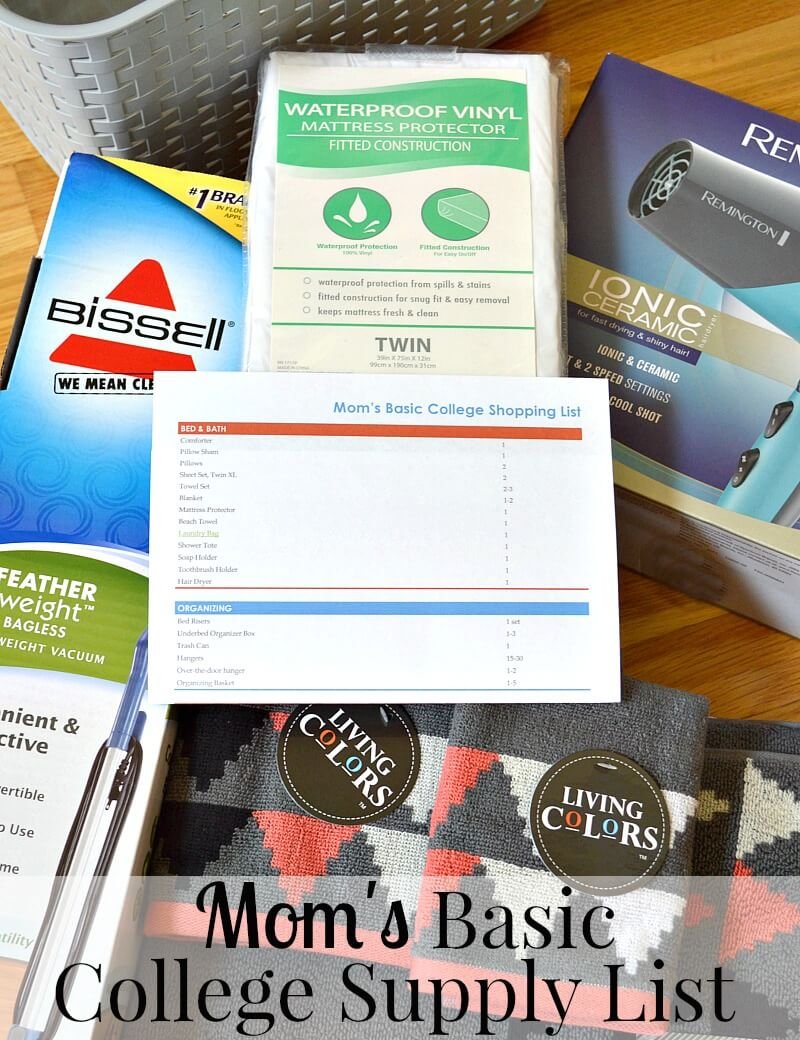 When it comes to college supply list shopping, your baby will focus on certain items and dad will focus on certain items, but moms focus on the basic items our baby needs to feel comfortable and cared for while away from home. I want to take care of supplying the basic items that my baby needs first and then we can add the additional items next.
You can download your own copy of my Mom's Basic College Supply List. I suggest printing it out and discussing it with your baby. Go through your home and find items that you may already have and identify them. Then you can focus on your college supply shopping trip.
Basic College Supply List
Bedding and Bath
As a mom, I first focus on bedding and bath items that my baby will need. Some are obvious, like towels and sheets, but even those choices involve mom input. I shared my thoughts on the best color of towels for college when my first baby headed off to college. Finding towels with a fun, unique design will make it easy for her to distinguish her towels from her roommate's (and her roommate to know not to use her towels).
I like to send my babies off to college with mom-made items to remind them of how much I love and miss them. I made a DIY Laundry Bag and a quilt for her to take with her.
A mom must-have is a mattress protector. Ugh, don't let me start thinking about the mattresses in dorm rooms. A fitted, mattress protector provides a layer of separation between that (shudder) dorm mattress and my baby.
Office Supplies
A dear friend of mine asked one question of the student guides on every college tour she took. "What's one item you needed at college that you didn't take with you." One student answered, "A stapler." That got me thinking of all the office supplies that a college student needs but might not think of. I put together a kit of Office Supplies for College Students and added the items to my Basic College Supply List.
Personal Items
It's important to me that my baby has concrete reminders with her at college of how much we love her. Items like photos and mementos will make an impersonal dorm room feel like home. Since one my love languages is crafting, I have planned several crafts to make with my baby that she can use in her dorm room. My making the personal items together, we create memories and a concrete reminder for her to have with her. You can use my free pillow sham pattern to make an easy-to-sew (Really.) personal item for your baby. But whether your craft with your baby or not, what's important is to send personal items that have meaning to your baby.
Cleaning Supplies
Another only-mom-thinks-of-it portion of the college shopping list is cleaning supplies. I'm not under the delusion that my baby will be cleaning every day, but I do want to make sure she has the cleaning items she needs for when she's ready to clean her dorm room.
Sending a vacuum is a huge convenience for a college student. While most dorms have a vacuum that you can check out, it's often a hassle to check out. The hassle ends up being a deterrent from taking the time to vacuum. I don't want anything to be a deterrent to keep my baby from cleaning. Having a lightweight vacuum available in her room will make it easy for my baby to clean anytime she has the time or inclination.
Organizing
Living in a tiny dorm room necessitates organization to be able fit everything into the space and be able to access what you need. Organizing tools range from hangers and a trash can to bed risers. My mom must-have organizing items include under-the-bed storage boxes and organizing baskets. Most dorm rooms have shelves to help with storage. Organizing baskets are a much more efficient way to use those shelves and organize your baby's many items. A basket with handles makes it easier to use day-to-day and is perfect for move-in and move-out day. The handles make it easy to carry up and down all those stairs and all those hallways.
While I've been focusing on getting my baby ready for college, this has been a chaotic summer for my family. I've been dealing long-distance with emergency health issues with my parents and so I've had very little time for shopping, even as important as shopping for my baby is. Fortunately, I discovered that Big Lots has a large assortment of high-quality, on-trend items on my college supply list; items ranging from mattresses and furniture to small appliances and bedding. (*Styles and assortment vary by store.) With my chaotic schedule right now, I greatly appreciated that I could place my order online when I found a couple of minutes very, very late one night and my order was very conveniently delivered right to our door.
I ordered a lightweight vacuum, a fashionable towel set, a waterproof mattress protector, a hairdryer, and organizing basket with handles – all items on my mom basic college supply list.
It was easy to do at BigLots.com, took such a load off my overwhelmed shoulders and helped me prepare my baby for college. The time and energy I saved by shopping online allowed me to spend more time having fun and just spending time with my baby.
I'll never be ready for my baby to leave for college, but now I know that she's ready to head off to college. Thanks to my basic college supply list, I know that she has what she needs to be comfortable and taken care of when she starts her grand adventure going off to college. What does your baby need for college?
College Care Package Ideas: