How to Save on School Clothes
This post may contain affiliate links provided for your convenience. We earn commissions if you shop through the links on this page. I am also an Amazon Associate and earn from qualifying purchases Read my full disclosure policy.
While it might feel as though summer has only just started, the upcoming school year is approaching faster everyday, and there are few things more necessary to be on the lookout for than new school clothes. With all the competing sales and trendy style options, it can sometimes be overwhelming to determine the best way to save on school clothes for your children for the new school year.
Learning the options available for cute clothes for school, while still saving money is key for parents. As you look for the best ways to save on school clothes this coming fall, these simple tips will help you find clothes that will make your children AND your wallet happy.
How to Save on School Clothes
Take Advantage of Sales
Taking the time to track BTS clothes sales is sure to help you save.
Thoroughly read sales flyers.
Cut coupons.
Print out sales notices you find online.
Do research to find out when different stores mark down their merchandise.
Take advantage of sales tax holidays during the back-to-school clothes shopping season. Many states offer a 3-day period where they don't collect sales tax on school clothes purchased. This can save a family quite a bit when you're stocking up on school clothes.
Take advantage of email and app alerts for your favorite stores so you know when sales occur
Since most back-to-school sales are a first-come first-served basis, be sure to track the sales and go as soon as possible so you don't miss out.
How to Make Shoe Shopping Fun for Kids
Take Advantage of Rewards Programs
Start with the rewards programs for the stores you shop most often.
There's often a sign-up bonus or incentive that will help you save immediately.
Many rewards programs offer ways to stack savings and points so that you can save even more. Ask the sales clerk or do a little research online for tips.
Some clothing stores will reward you for bringing in clothing to donate. This allows you to bring in clothing that your child has outgrown or no longer likes, and you receive a coupon you can use to purchase new school clothes at the store.
If you're hesitant because you don't want to carry another plastic membership card, don't be. Many rewards programs are now linked to your phone number. There's also a free phone app, Key Ring, that allows you to enter all your store rewards cards and then the clerk simply scans the app on your phone.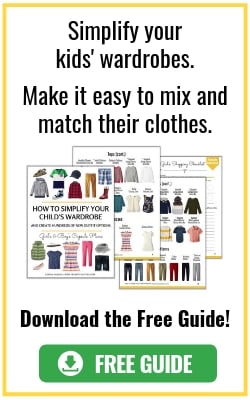 Shop Secondhand Stores
You can find both vintage and name brand styles at thrift stores and secondhand stores.
What's the difference between a thrift store and a secondhand store?
In general, a thrift store sells donated items and a secondhand store or resale store sells items on consignment or purchased the preloved items to sell. You can find gently-used items, name brand items, and even items still with tags at both types of stores. The big difference is that secondhand stores curate their merchandise so you will tend to find a more consistently higher level of quality in the merchandise.
Most secondhand and thrift stores cut average clothing prices at least in half, and often reduce the price much more than that. The result is that you can find cute clothes for back-to-school and take advantage of significant savings.
Visit your local secondhand and thrift stores prior to store sales. Take the time to search through the numerous gently-used items available to find items your child will love to wear.
You can also enjoy the convenience of saving on used brand names from the comfort of home with online secondhand shops like thredUP where you can browse name brands such as the popular and fashionable Madewell looks.
Shopping in-store or online for preloved school clothes will be sure to leave your kids feeling confident on their first day of classes without breaking the bank.
Check Out Garage Sales
Summer cleaning is in full swing and with it comes frequent local garage sales. Be aware of when your neighbors might be having a yard sale and keep track of other developments that are holding weekend events as well. Most local neighborhoods coordinate garage sales on a larger scale, meaning you'll be able to knock out a bunch of houses all at once. Though your first instinct might not be to look through the clothing racks, it's important to utilize these sales during this back to school season if you're looking to save some extra cash!
If you live in a neighborhood with lots of kids, chances are your community's garage sales will offer a great selection of back-to-school clothes options.
Community yard sales mean that many families will all be having their yard sales on the same day. This means there will be many more school clothes offered for sale on the same day in the same area, which will save you time and money.
Watch for local garage sales

Watch for signs put up on Thursday and Friday announcing weekend yard sales
Look in your local paper and Facebook or community groups for upcoming garage sale announcements

Upscale towns and neighborhoods are often a great source of name brand clothes that are still in great condition.
If you want to buy more than one item, don't hesitate to ask if they can give you discount. Remember the seller wants to sell the items, so if you are willing to purchase multiple items they may be motivated to give you a discount.
Reuse
Hand-me-downs are perhaps the most common form of clothing reuse for families, and are also the perfect way to save money on BTS clothes. Always make sure to go through the closet of your older children and assess with them which items they no longer want and which items no longer fit. If you have an only child, never be afraid to ask for some hand-me-downs from other relatives such as older cousins. Most families have significant amounts of clothing that rarely gets worn and can easily be used for this upcoming school year! Reuse of older items will extend the lifespan of clothing overall, which will have a positive impact on both your spending habits and our planet.
Make sure to go through the closet of your older children and assess with them which items they no longer want and no longer fit.
Talk to friends and relatives about creating a hand-me-down coop where you can share clothing with each other.
If you have an only child, never be afraid to ask for some hand-me-downs from other relatives such as older cousins.
Take advantage of freecycling groups online and on Facebook. People give away items they no longer need, like school clothes, for free.
Reuse of older items will extend the lifespan of clothing overall, which will have a positive impact on both your spending habits and our planet. Saving money on school clothes is great for your budget and the landfill, which is a win-win. And when your child heads to school looking great in their new-to-them school clothes, there's another win.
Take the time to organize clothes before school starts:
Pin for back-to-school shopping time.
For more back-to-school ideas, printables and recipes check out the table below. You can scroll though the table and look for ideas or search for specific ideas with the magnifying glass in the upper right-hand corner (on desktop). Click on the topic and then click through the specific article.
I'm a mom of 3, a veteran and military spouse. I've moved into 20+ homes all around the world. My passion is helping busy people make the space and time for what's really important to them.