Family Command Center Tips
This post may contain affiliate links provided for your convenience. We earn commissions if you shop through the links on this page. I am also an Amazon Associate and earn from qualifying purchases Read my full disclosure policy.
As a professional organizer, I know how powerful it is to keep your family and family schedule organized. These family command center tips will help you design or choose the best wall organizer for your needs.
The family command center wall organizer featured here was supplied by 1Thrive. My opinions are always my own. And once you know what to include in your family commander center, it's simple to DIY and create your own.
Command Center Wall Organizer
Why Use a Command Center Wall Organizer
Visually organize the family calendar in one central location so everyone can use it
Create a one-stop location for all paperwork and scheduling information
Make it easy for the entire family to share information
Create an organized entry zone
Provide a stylish and useful wall design element
Where should I put my family command center?
A central, easy-to-access location

A family command center is often placed in the mudroom or near the front door
Command centers are also often placed in or near the kitchen
If you don't have a mudroom or coat closet, you can choose a command center with hooks to hold coats and bags in addition to the calendar and paperwork

A location with plenty of light
A location away from doors that will get in the way or cover up the command center
If you have young children, locate the family command center where they can't reach it
It's helpful if the command center is located near a table or shelf so you can place items there while you're using your command center
What do you put in a family command center?
A monthly calendar large enough to hold your family's activities

White board
Chalk board
Paper

A To Do List or notes area
Menu Plan Board
A chore or task tracker
Folders or a bin to hold

Bills to pay
School papers
Take out menus
Coupons
Service provider cards or flyers

A bulletin board to display photos, cards, artwork or notes
A magnetic board in addition to or in place of a bulletin board
A cup or place to put pens, pencils and markers
Hooks or bin for keys
Bin for change and other loose items
Hooks for purse and bags
Hooks for jackets
Family Command Center Tips
Choose a central location that is easy to access.
Choose a command center layout that meets your needs and is flexible enough to grow and change as your family does.
Find a well-made command center that will hold up daily use. Your family will be adding items and removing items from the center multiple times a day. You need the components to hold up to continual use (and not-so-gentle use by children)
For military families or families that move often, find a family command center that is easy to move with you. This allows you to maintain the familiarity and routine of using the same command center in each new home.
Take time to plan what features you need for your family's use. Every family is different, so your family command center design should be tailored to your needs.
Choose what your family needs from commonly used features in a family command center:

Calendar
Note area

Chalkboard
Whiteboard
Corkboard

File or paper basket
Area for mail
Separate files or baskets for each family member
Menu plan
Area to hold pens, pencils, markers
Hooks to hold

Keys
Purses
Backpacks
Facemasks
Pet leash

Ledge to hold

Wallet
Keys
Change
Garage door openers

Charging station
Decorative feature to personalize the command center and make it blend with your décor
1Thrive Wall Organizer Review
I'm excited to share with you that my 1Thrive wall organizer meets all of the needs of a family commander center, plus it's extremely well-made and lovely.
And I'm excited to let you know that I was given an exclusive 1Thrive coupon code to share with you. Use coupon code ORG31 for a special 10% savings.
1Thrive offers 9 different wall organizers in different sizes and with different features, so you can choose the one that best meets your unique needs. The different models are charmingly named with people's names.
I, of course, chose The Susan. Yep, that makes me smile every time.
I was impressed with how quickly it arrived (in case you're as impatient as I am) in just a few days.
All the 1Thrive wall organizers are designed with a metal base or frame and additional tools that hang on the frame, so they can be moved around to meet your needs. Each 1Thrive wall organizer contains:
Metal frame or base
Different choices of
High quality markers designed by 1Thrive
Additional accessories
Most of the vertical surfaces are also magnetic and can be written on
The wall organizer I chose, the Susan, came with:
White board with calendar outline and space for notes
File holder
Small magnetic To Do board
Corkboard
2 metal cups
Hooks for purse, bags or coats
2 Chalk markers
Installation screws and drywall anchors
The Susan comes with gold colored components, but I was able to exchange the gold hanging cups for black ones, which I prefer.
What I like about the 1Thrive wall center:
It's stylish in a simple, timeless way.
You can change out the components and change the look to match your preferences or changes in décor. You can also change the components to meet your unique organizational needs.
It's great for military families and families that move frequently because it's extremely well-made so it will hold up well to moves. Its flexibility means it will fit easily in different sizes of homes. There are even door hooks that will allow you to hang the wall organizer on the back of a door if you don't have wall space for it!
The different components can be arranged in any order you'd like and are easy to rearrange since they hang on the rails.
The 1Write markers are super high quality and may have spoiled me for any other markers (and I'm a tough grader). The color is vivid and the pens write smoothly, beautifully smoothly. They're dry erase so they don't smudge and are simple to wipe off with a damp cloth. The same marker works for both the white board and the black board.
You can take the boards off to write on. For those of us who are handwriting challenged, this is a biggie.
The boards are magnetic, so you get two in one – write-on and magnetic all-in-one board.
What you need to know about 1Thrive command centers:
They are not inexpensive. They are made very well and will last for years, decades even, so it's an investment that should last. 1Thrive also runs many different sales promotions. You can always use the exclusive 1 Thrive coupon code ORG31 to save 10% at anytime.
The slots to hang the wall unit on the wall are located in the vertical bars, not on the top horizontal bar. I'd planned on hanging mine on a wall that was the exact measurements of the unit, but because of the location of the hanging slots, I wasn't able to. That's not a big deal if you know that, so you can plan.
Take the time to evaluate which command center will work best for your space and your requirements. You're making an investment and while you can choose add-on components, you want to make sure you select the correct size.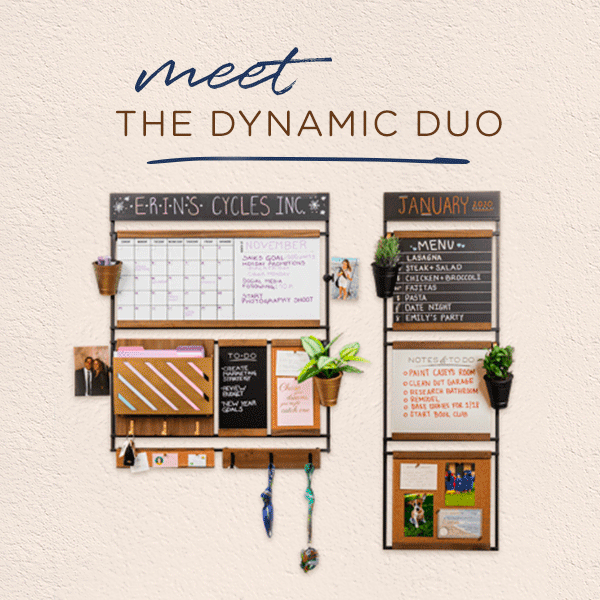 More Command Center Related Ideas
Be sure to pin so that you can find this comprehensive list of family command center tips to help you set up your own wall organizer center.
Find all my best organizing tips, hacks, printables and favorite products in the table below. You can scroll though the table and look for ideas or search for specific ideas with the magnifying glass in the upper right-hand corner (on desktop). Click on the topic and then click through the specific article.
I'm a mom of 3, a veteran and military spouse. I've moved into 20+ homes all around the world. My passion is helping busy people make the space and time for what's really important to them.