Family Meal Planner Program
This post may contain affiliate links provided for your convenience. We earn commissions if you shop through the links on this page. I am also an Amazon Associate and earn from qualifying purchases Read my full disclosure policy.
If your busy family is anything like mine, you desperately need a family meal planner. Whether you use a paper planner, a meal planner app or a meal planner program, they all save you time, money and reduce chaos. I don't know a family that doesn't need at least one, and probably all three, of those benefits.
A meal plan generator can be such a time and sanity saver, but you need to find one that works well for your unique family and life style. It's just as important to understand why and how a menu planner will make your busy life so much easier.
Benefits of a Family Meal Planner
Making Dinner Is Less Stressful Each Day – No more panicking trying to figure out what to make for dinner and rushing to get the ingredients and then cook the meal.
Saves Time Shopping – You can just make one trip a week rather than multiple shopping trips each week or even each day.
Saves Money – No more buying duplicates of items because you'll only purchase what you need for your meal plan.
Reduces Waste – No more throwing rotten produce or expired food out because it didn't end up getting used.
Reduces Stress in Your Week – No more frantic calls about what to eat and last-minute runs to the grocery store.
Provides Balance in Meals Each Week – You won't be eating dishes with the same old go-to ingredients because it's just what you have in the house or because you can't think of anything else to make at the last minute.
Encourages Trying New Meals – You can plan ahead to try new recipes and ingredients.
Allows You to Tailor Your Meal Plan to Your Unique Needs and Preferences
Makes It Easy for Other Family Members to Do the Shopping – You can share the shopping responsibility by simply sharing the planned out grocery list to that person.
Makes It Easy for Other Family Members Prepare Meals – Anyone can check the meal planner and then make dinner for the evening. No more waiting on you to make the decision and the meal when you get home.
Family Meal Planner Program
You can create your own meal plan in your bullet journal or on your electronic calendar.
I've shared my own meal planning process and free monthly meal planner printables with you. They work well if you like to create your own family meal plans yourself.
I recently had the opportunity to try out The Dinner Daily family meal planner program and I'm impressed with how easy it is to use and to tailor to your specific preferences. Let me show you how it works and what I really like about the weekly menu plan service.
The Dinner Daily Review
How to Use The Dinner Daily
Sign up
You can sign up for a free two-week trial of The Dinner Daily. Those two weeks will give you a good idea of how the service works and if it will work for your family and lifestyle.
In the two-week period, you'll receive 10 different meal recipes and two shopping lists, with the associated coupons. You'll have a good idea of what to expect each month in the future, how the family meal planner program works and how it will work for your family.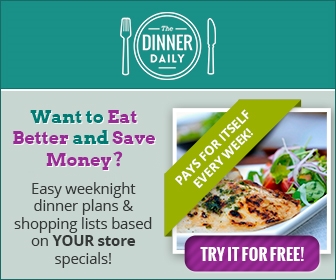 Set your meals types
You choose which food preferences you have for the recipes you receive and how often you'd like each of those food preference categories each week.
You can further fine tune or specify other meal preferences or restrictions for needs such as dairy-free, peanut-free and more.
For my family, I chose 1 red meat meal, 1 pork meal, 1 chicken meal and 2 vegetarian meals. The ability to select the types of recipes was such a big help since my daughter has recently become a vegetarian and was home for 5 weeks during the holidays. I'm just beginning to collect vegetarian recipes that we all like so I chose to add 2 vegetarian meals to our week so that we can try more new vegetarian recipes.
You can change your meal preferences at any time. This is great if you have guests coming to stay with dietary restrictions or preferences. It's also helpful as your family members' needs and preferences change.
Choose your store
You can select your preferred grocery store. The Dinner Daily gives you a list of all grocery stores in your area. Once you select your favorite grocery store, your meal plan will be designed around sales this week at your selected store and the shopping list will include brands available at the store.
You're also able to change your store preference each week to any other stores in your area.
Your first menu will be emailed to you immediately
The email will include access to your weekly menu plan, your personal shopping list and the coupons that are matched to your shopping list.
Make changes if you don't like any of the recipes
When you receive your meal plan, you can swap out any recipes that you don't like. The meal planner program will automatically substitute a new recipe, update the shopping list and update the associated coupons.
Access your grocery shopping list
You will receive a detailed grocery shopping list that you can access from your phone or print out.
You can also choose to have your shopping list sent directly to the store's grocery delivery service and save even more time that way.
Print out the corresponding coupons
You will also receive links to coupons that are for items on your shopping list.
Not only are the recipes chosen to take advantage of weekly store sales, you can save more money by simply taking advantage of these coupons.
Each week you'll receive a new emailed meal planner
Each week your new weekly menu plan, shopping list and list of coupons will automatically (and almost magically) arrive in your email inbox.
Remember, you can swap out meals that you don't want and the system will automatically add a new recipe and update your shopping list and coupons.
Now let me tell you what I've learned from using the meal planner program with my own family – a The Dinner Daily review.
What I Like About The Dinner Daily
Takes just minutes to set up your preferences and then the menus and shopping lists show up in your inbox with no more work on your part.
I love that I can choose which types of meals I want to receive in my menu plan.
I appreciate how easy it is to change the menu plan and preferred grocery store.
I love that the shopping list is tailored for my favorite grocery store and the sales for that week.
The recipes have all been easy to make, so they're perfect for busy families.
Overall the recipes have all been good. I'd say that 25% were recipes everyone (4 people in my family) was excited about. About 60% of the recipes were solid, good recipes and about 15% were okay recipes that we will probably swap out on future weekly menu plans. That's a better success rate than I've had with cookbooks I've purchased.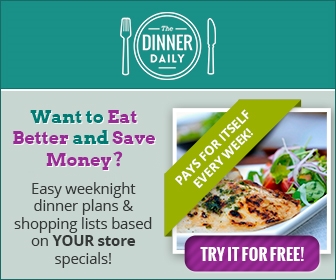 Why You Should Give The Dinner Daily a Try
You can try The Dinner Daily for two weeks for free. That's 10 free recipes and two weeks' shopping lists. Why wouldn't you give it a try?
It's between $1.50 and less than $1 A WEEK!, depending on if you choose a 3-month or annual membership. How can you beat that? For about $1 a week, you get a 5-day weekly meal plan and the shopping list and coupons tailored for your store.
You can tailor your meal planner for your family's preferences and needs. So you get a personalized meal planner for around $1 a week.
The personalized menu and shopping list makes it easy to save money with your store's specific weekly sales and coupons for the items on your list.
I wished I'd had this family meal planner program available when I had three children at home. It is such a time and stress saver! And at as little as $1 a week, it's easy to cover the cost of The Dinner Daily with the savings I'll be making from the targeted store sales and the coupons.
Be sure to pin for later when you're want to share this family meal planner program with friends and family.
Find all my best Kitchen organizing ideas, printables and favorite products in the table below. You can scroll though the table and look for ideas or search for specific ideas with the magnifying glass in the upper right-hand corner (on desktop). Click on the topic and then click through the specific article.
I'm a mom of 3, a veteran and military spouse. I've moved into 20+ homes all around the world. My passion is helping busy people make the space and time for what's really important to them.