Valentine's Care Packages for College Students
This post may contain affiliate links provided for your convenience. We earn commissions if you shop through the links on this page. I am also an Amazon Associate and earn from qualifying purchases Read my full disclosure policy.
Originally published January 18, 2018. Updated January 12, 2020.
This shop has been compensated by Collective Bias, Inc. and its advertiser, Mars Wrigley Confectionery US, LLC. All opinions are mine alone. #SendSweetness #CollectiveBias
I vividly remember the excitement of receiving a care package in college. The happy feeling would carry me through for days. My college time was, uh, just a few years ago and now (somehow) two of my babies are much too far away at college.
I send them care packages often to remind them in a concrete way of how much we love and miss them. I'm up for sending care packages for any and every occasion, but I think that Valentine's care packages are my favorite.
When my babies receive a care package, I want them to open a gift that reminds them that I love them with my whole heart. I want them to feel cheered up, supported and loved.
If I can't be there to tell them and show them every day (and for some inexplicable reason, neither of my two babies wanted me to go away to college with them), then I make sure that I tell them and show them when I send college care packages.
These six simple tips for making Valentine's care packages will make sure that your care package is a big hit and shows your college student that you love them with your whole heart.
Valentine's Care Packages for College Students
Candy
The foundation of any Valentine's college care package should be your student's favorite candy and treats. One of the DOVE® Chocolate Heart Tins is definitely a must-have for a Valentine's Day care package.
It's super easy to purchase Mars® chocolates and candy for your care package. Simply hover over the photo below and click through to walmart.com. I love shopping from the comfort of my couch.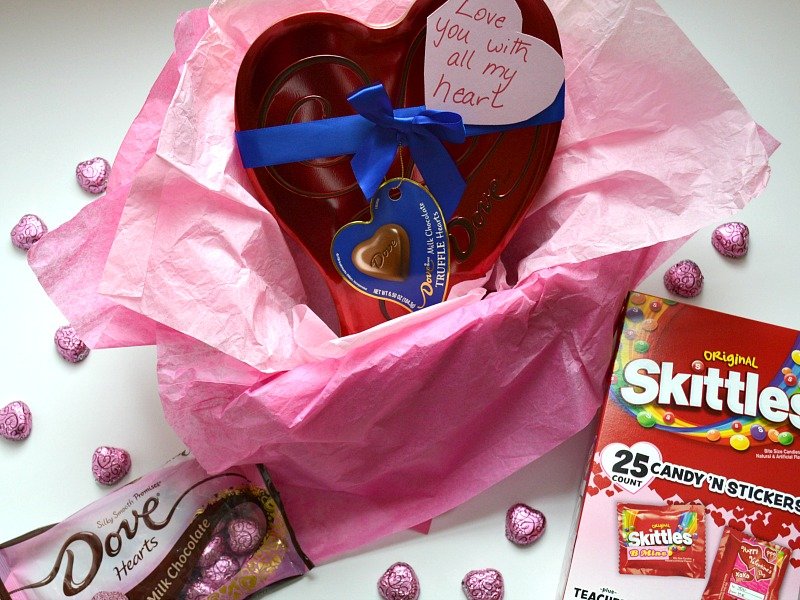 Homemade Treats
Homemade baked goods and treats are also a special way to show your affection. Send your student's favorite childhood treats to evoke happy memories.
Letters & Notes
Handwritten notes are uplifting and encouraging when a student is far from home. Cut out pink and red hearts for your notes to add to the Valentine's Day themed care package.
This is a time to flood your student with happy notes. You can't send too many.
Ideas for notes:
Write encouraging messages.
Write messages of love.
Write down specific reasons you're proud of your college student.
Write happy shared memories.
Have multiple family members and friends write notes.
Send Extras for Roommates & Friends
Include gifts for roommates and suitemates. It's nice for your college student to be able to share gifts and treats with roommates and it's nice for the roommates to be included in the excitement of a care package.
The SKITTLES® FUNSIZE® Friendship Exchange Bags are perfect for sharing with roommates. There are stickers included to add to the Valentine's celebration. Be sure to send some of them to your baby from you.
And then include some for friends and roommates that your student can fill out. There are 25 in the box, so that means you can include a large number of friends.
Add Warm, Cuddly Gifts
Send warm and cozy gifts. You get bonus points if the cozy gifts are red or pink or have hearts.
Cozy and warm gift ideas:
Winter Hat
Gloves or Mittens
Blanket – It's easy to make a flannel blanket that you can personalize with your choice of fabrics.
Monogrammed Mug
Coffee, Tea or Hot Chocolate
Gift Card to a local coffee shop
Wrap in a Fun Way
An easy way to make the care package extra special is to package the gift items in a festive way. You could simply put the gifts in a cardboard box and mail it off to your student, or, better yet, you could jazz the gifts up and make the care package memorable by packaging them in a unique and fun way.
Be sure to check out my additional ideas on How to Make a Care Package for Valentine's Day.
Be sure to check out my 25+ College Care Package Ideas that include holiday ideas, school color gift ideas and seasonal ideas.
These DOVE® Chocolate Hearts are ideal to include in a Valentine's Day care package and they're even more fun when they're presented in a sweater gift bag that you can make yourself.
With these six tips, it's easy to make your Valentine's Day college care package meaningful and show your student that you love them with your whole heart.
Be sure to head to Walmart right away to stock up on supplies to make Valentine's care packages for college students.
And while you're making Valentine's care packages, why not send some to deployed service members, too? Be sure to check out more ideas on how To Love with Your Whole Heart from Mars®.
See all of my care package ideas in the table below. You can scroll though the table and look for ideas or search for specific ideas with the magnifying glass in the upper right-hand corner (on desktop). Click on the topic and then click through the specific article.
I'm a mom of 3, a veteran and military spouse. I've moved into 20+ homes all around the world. My passion is helping busy people make the space and time for what's really important to them.